We develop the perfect process for you:
The right machine

with the right consumables

and the right processing time!
In our Customer Experience Centers (CEC) we realize the full power of over 80 years of surface finishing experience. This is where your journey through the Rösler product world begins. It's here where we determine the precise process for your products and perfectly tailor it to your production process...finding a better way.
In our four CEC in Untermerzbach with a total floor space of 3,000 m² , you can benefit from more than 95 different machines – with our most experienced experts at your side. Using this equipment we can reproduce all mass finishing and shot blasting processes as well as 3D Post Processing methods for additive manufactured parts and we can support process development using the latest physical and chemical measuring techniques (e.g. roughness, edge rounding, shine, residual compressive stress). We also offer a specialized measuring system for analyzing mechanical stresses on crystalline metal surfaces using x-ray diffractometry (XRD). This enables blasting processes to be examined quickly and significantly reduces process development times. This analysis is also available as a stand-alone service. Download Info Flyer
Even for experienced employees, it is always a magical moment when a single, clear solution that can open up the full potential of your product emerges from the many possible finishing processes. Our end goal is to offer you the perfectly defined process – including the right machine, the perfect consumables and the ideal processing time.
Your role is simple: trust us with your product. It's in the best hands with us.
We look forward to welcoming you on site in our CEC.
Discover the world of surface technology
3.000 m² total area

Over 95 different machines

More than 1,750 process developments per year
From the sample to the perfect result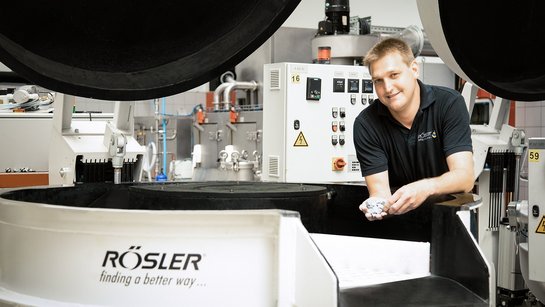 To achieve optimal processing results, we carry out sample processing step-by-step as follows:
Joint kick-off meeting to set the processing objective
Determination of the process technology
Sample processing
Appraisal by our experts
Creation of detailed test and measurement reports
Evaluation by the customer and final meeting