Unlimited applications – no matter what your requirements
Rösler mass finishing offers more than 1,000 surface finishing options.Metal, plastic, ceramic or wood, deburring, descaling, rust removal or polishing – the uses for mass finishing machines are almost limitless and they have been used successfully day in and day out for decades in many industries such as aerospace, medical technology, the automotive sector and the coin and jewelry industries. Nowadays, almost every workpiece requires functional or aesthetic surface finishing.
Mass finishing, also referred to as tumbling or vibratory finishing, is a technique derived from nature – surfaces are polished using grinding media and compounds in the same way that sand and water smooth pebbles in the riverbed.
Mass finishing offers a big advantage over other competing methods. By combining processes, several production steps can often be carried out simultaneously. As a result, processing time is reduced, fewer resources are used and it is more cost-effective.
Everything you need from a single source – our offer to you
As the market and technology leader in the field of vibratory finishing, we have an almost unlimited selection of different mass finishing machines and technologies. Our range includes robust all-rounders, such as the well-established rotary vibrator, fully-automated high-precision machines, such as our drag finishing machines and Surf-Finisher, as well as fully automated linked systems.
Choosing equipment from Rösler isn't the end of your journey with us. Our Rösler complete service provides all the components, peripheral solutions and services you need – optimized and individually adapted to your requirements.
This includes:
A choice of approx. 15,000 consumables developed and produced in-house
Dedicated peripheral equipment, such as sustainable drying solutions, resource-saving centrifugal technology, and industrial washing systems
Digital monitoring of process water for more reliable and cost-effective processes
Expert advice and extensive testing in our worldwide Customer Experience Centers
Individually tailored servicing contracts
Worldwide support from our own service and application engineers on site
Training and professional development opportunities for your employees in our Rösler Academy
State-of-the-art manufacturing sites with a unique in-house production range
We offer everything you need from a single source – Rösler. This makes us unique and you successful!
Professional & individual – we develop your custom process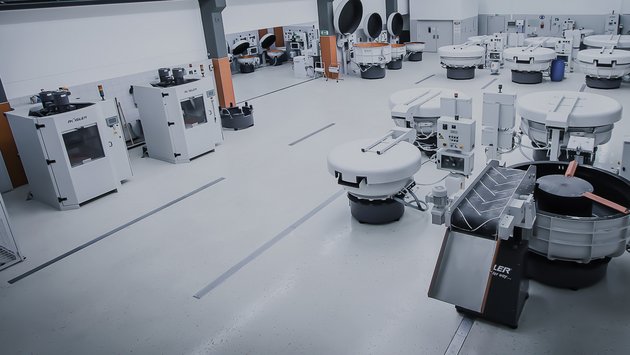 Let's compare mass finishing to the familiar art of cooking: Simply using the right ingredients, doesn't make you a great chef. It is only by combining experience with the right quantities of individual ingredients that we achieve the desired result. Mass finishing works in just the same way.,
Here at Rösler, we draw on our extensive experience gathered over the past 80 years in the mass finishing sector – experience which you naturally benefit from. We have consistently developed our process know-how by performing hundreds of thousands of tests for a wide range of industries in our worldwide Customer Experience Centers. True to our company motto "finding a better way", we aim to give you the competitive edge in terms of quality and profitability. Whether you're looking for a standard process, a special solution or highly automated production cells, your surfaces are in the best hands thanks to our globally unique product range.
Dynamic, sustainable, economical – added value thanks to Rösler
Many mass finishing processes and machines used today throughout the world have been customized by us to meet specific customer requirements.
When it comes to the post-processing of complex, high-quality precision parts, many high-tech industries rely on the Rösler Surf-Finisher. Its six-axis articulated robotic arm enables the reliable, cost-effective and repeatable post-processing of workpieces which until now still had to be partially finished by hand.
From the point of view of resource conservation, using process water in an environmentally responsible way is becoming increasingly important. Thanks to our continuous development of machine technology and consumables (finishing media, compounds and process-water cleaner), today almost any mass finishing equipment can be connected with a Rösler process water system.
The process water resulting from vibratory grinding is then fully recycled via a closed-loop system. This process can be monitored around the clock and from any location using the digital process water management system from our new brand, Rösler Smart Solutions. It also quickly and simply provides you with the best recommended courses of action, if required.
We have also taken another step toward increased sustainability in mass finishing with our RT Euro-DH rotary dryer. This latest model impresses with its newly developed heating blocks, which enable energy savings of up to 40 percent and thereby make vibratory grinding solutions more environmentally friendly and sustainable.