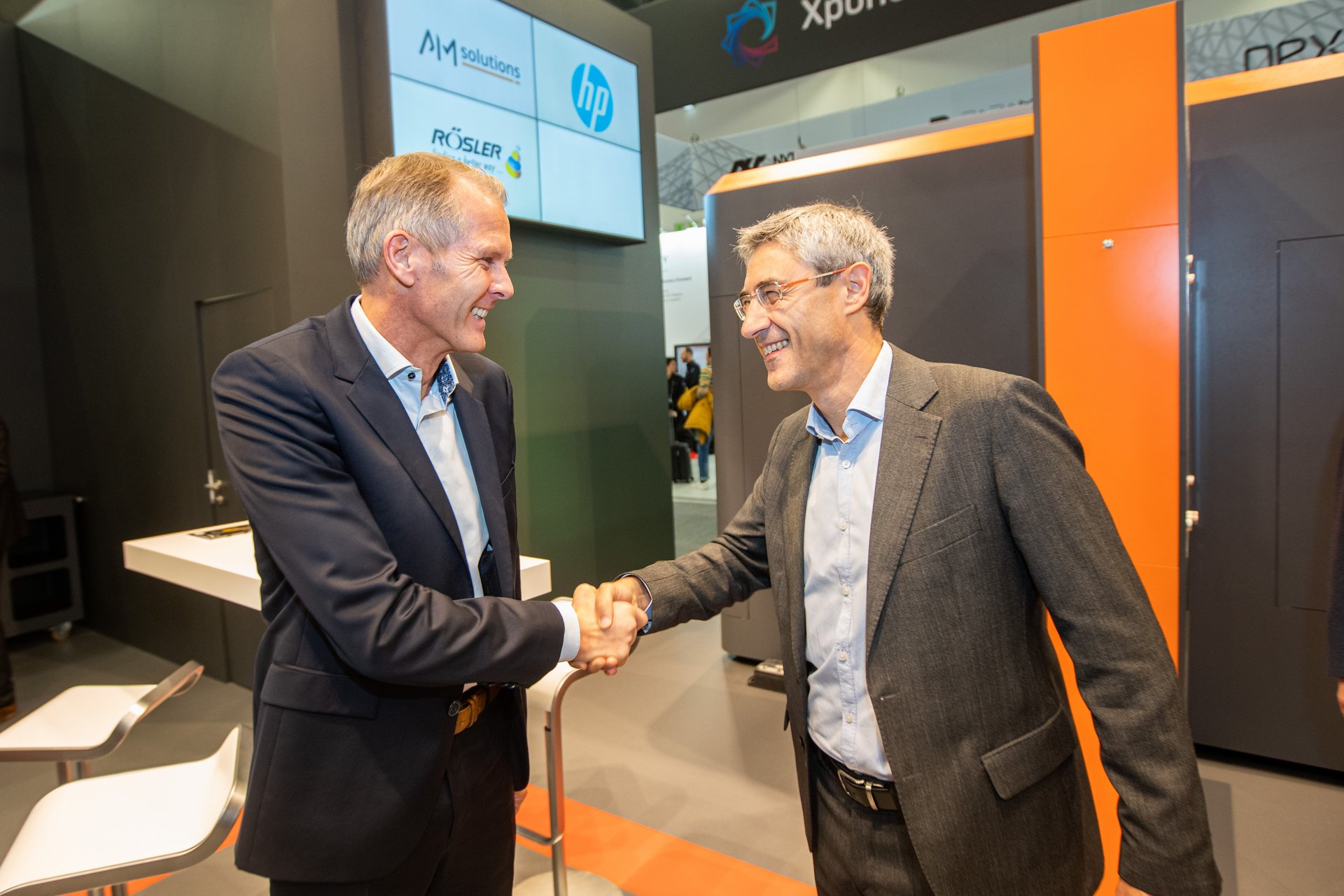 For the Formnext exhibition AM Solutions, Rösler group's brand name for all activities around additive manufacturing, and HP announce a contractually fixed cooperation agreement covering the development of new equipment solutions in the field of automated post processing of 3D printed components. By jointly leveraging our technologies, this collaboration is aimed at bringing an industrial ready and scalable 3D printing post-processing workflow to our customers. Moreover, AM Solutions - 3D printing services expands its printing possibilities with the HP Jet Fusion 5200 Series 3D Printing Solution.

On the occasion of this year's Formnext HP, a world leader in 3D printing and digital manufacturing solutions, and AM Solutions, the brand name, under which the Rösler divisions "3D post processing" and "3D printing services" are offering their products and services, have signed a cooperation agreement. With this, the two companies want to jointly improve the automatic post processing of components printed with the Multi Jet Fusion technology in order to bring it to a completely new level of refinement and stability.

HP's industry-leading Multi Jet Fusion platform provides users with the ability to develop new designs, applications and production-ready final parts on the same platform and stay ahead with a future-ready technology. HP's Jet Fusion 3D printing portfolio includes the recently introduced Jet Fusion 5200 Series 3D Printing Solution, an industrial 3D printing system bringing new levels of manufacturing predictability, efficiency, repeatability, and quality to customers scaling to full production.

As specialist for the post processing of 3D printed products AM Solutions – 3D post processing offers processes for unpacking, removal of support structures and residual powder, including sintered powder particles, surface cleaning and smoothing, radiusing of sharp edges, polishing and, even, dyeing of components with a specific color. For the various post processing stages the company offers fully automatic systems, which not only guarantee significant increases in productivity and cost reductions but also ensure that the processes are absolutely repeatable and offer a high degree of sustainability.
Stephan Rösler, CEO of the Rösler Oberflächentechnik GmbH comments: "HP is an extremely valuable partner within our AM network. The cooperation allows us to further improve our automated post processing solutions and adapt them specifically to the Multi Jet Fusion technology from HP."
Ramon Pastor, Interim Head of HP 3D Printing & Digital Manufacturing, explains: "This partnership is an important example of HPs' commitment to collaborating with leaders in the industrial ecosystem to drive the digital transformation of manufacturing. The Rösler group offers comprehensive know-how in equipment building and surface finishing which is critical to production. We look forward to working together to broaden the opportunity for and accelerate mass production of applications across vertical industries."

AM Solutions – 3D printing services expands its printing capacity
Parallel to the start of this milestone cooperation AM Solutions - 3D printing services, the Rösler division specialized in printing activities, is expanding its digital manufacturing capabilities with the installation of its own HP Jet Fusion 5200 Series 3D Printing Solution. The service spectrum of this organization is not just limited to 3D printing: It also includes the design/engineering of AM components. Highly experienced experts and state-of-the-art equipment ensure that the design possibilities of additive manufacturing are fully exploited. This applies not only to the design of components from scratch and the re-design of existing components for additive manufacturing, but also to the validation of a design or the optimization of a component topology. AM Solutions - 3D printing services also offers post processing services, including machining, and quality control.

AM Solutions participates at Formnext with a booth in hall 11.0, booth number C21.