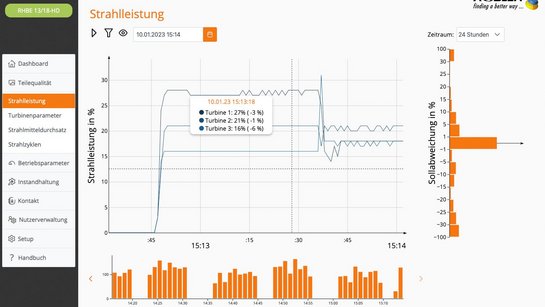 For decades Rösler has been a reliable partner for the foundry industry. With our innovative Smart Solutions software we are elevating this partnership to a new level. For example for challenging blast cleaning jobs: Their success depends to a large extent on determining the right process parameters in the shot blast machine. This important task, to date performed by experienced, well-trained personnel, will now be facilitated by our RSS software. With the self-regulating Rösler PowerLine valve this software continuously monitors and controls the achieved surface finishes on the work pieces.
Our newly developed media control system continuously monitors the media throwing speed and throughput. In addition, these data are recorded in a format that allows their quick retrieval. The media control system also guarantees that the blast turbines are running at the operationally best and most cost-effective conditions.
Therefore, our Rösler Smart Solutions software ensures your continued success. You will profit from a consistently high de-sanding quality in your shot blasting operation. Our digital solutions will help you to not only work more cost-efficient and faster, but also to save valuable resources.