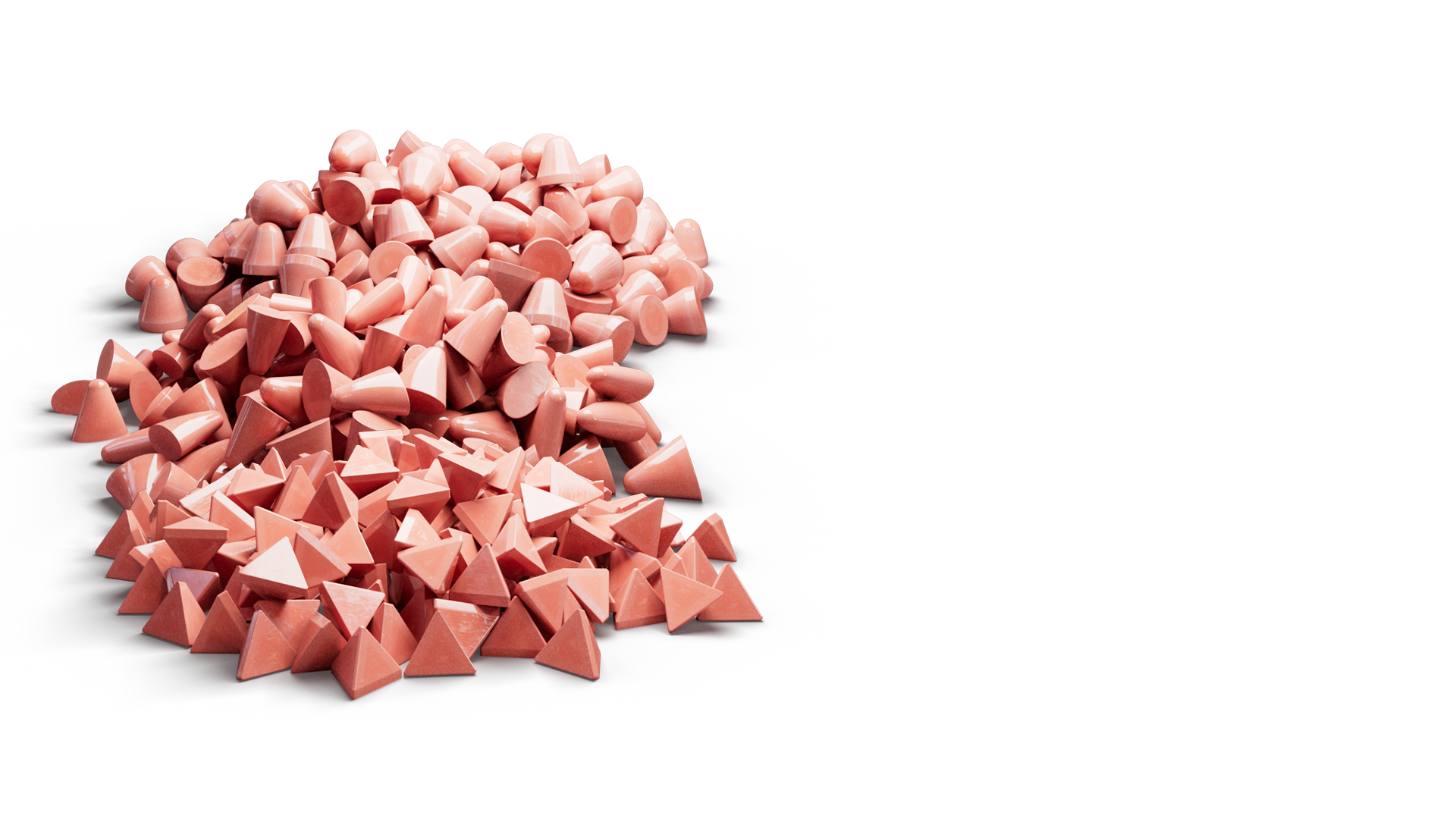 Plastic-bonded finishing media – for gentler surface finishing
For gentler surface finishing of softer materials, plastic finishing media has proven its worth. It is used for the gentle deburring, edge rounding, and grinding of brass, aluminum, and copper.
Plastic-bonded finishing media is about half the weight of its ceramic counterpart. Chipping can be virtually avoided even with high mechanical loads on the media (e.g. in intensive processes with high work piece weights). Even with large media, surface damage to the work piece can be avoided. If media gets lodged in holes or apertures of complex work pieces, these can be more easily identified and removed than the harder ceramic media thanks to the distinctive coloration of the grinding media.
All plastic media manufactured by Rösler goes through various quality-inspection steps in the manufacturing process. These are essential for achieving reliable surface quality in the application. We also pay particular attention to ensuring that there are no fluctuations in the cut rate and stock removal behavior of the finishing media. Of course, we achieve this by carefully selecting raw materials as well as through modern and efficient system technology and special curing cycle downstream of the actual manufacturing process.
Our variants of efficiency in plastic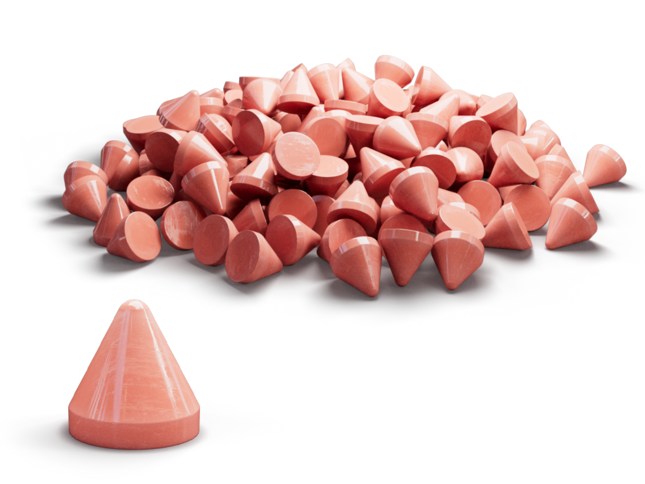 1 / 8
Cone (K)
The plastic cone is the heaviest finishing media shape within the range of plastic-bonded finishing media. This increases the rate of material removal. After the media is broken in the edge of the cone's circular base is rounded off, allowing workpieces to be gently processed without marking the workpiece surface. Cones are easy to separate from the parts since they easy roll across the surface. The cone does not leave any mechanical impressions (nicks or dings), even on delicate workpiece contours such as sealing surfaces of die cast parts.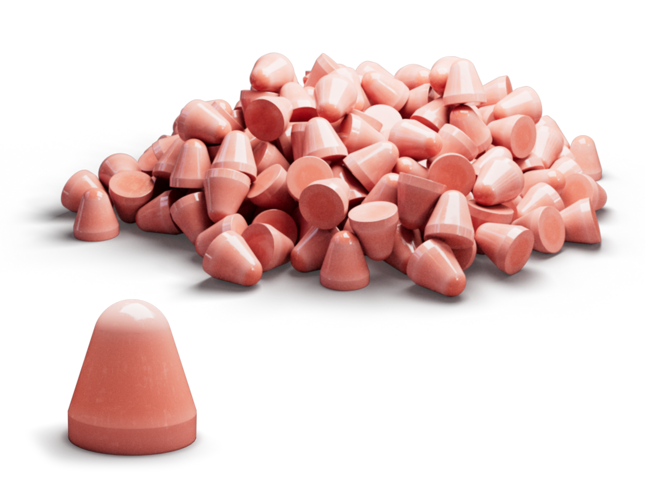 2 / 8
Cone - round (KR)
The rounded tip and flat base allow particularly gentle processing and achieve a finer surface finish. Otherwise, the same applies as for the standard cone shape.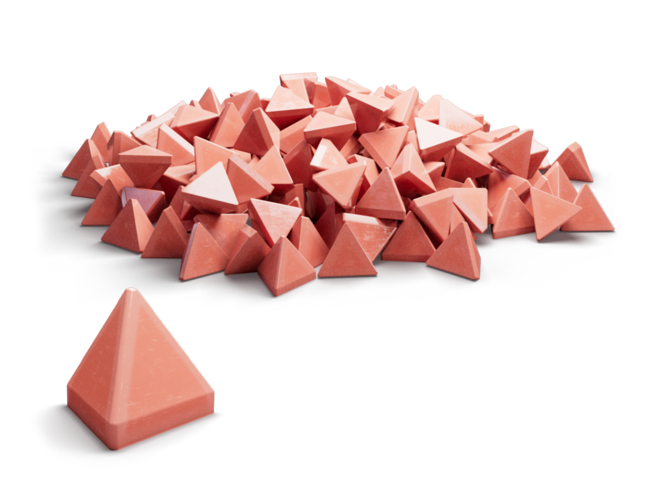 3 / 8
Pyramid (P)
Pyramid-shaped plastic media are typically used for classic deburring and grinding tasks. The edges and tips reach almost all surface areas with good effect.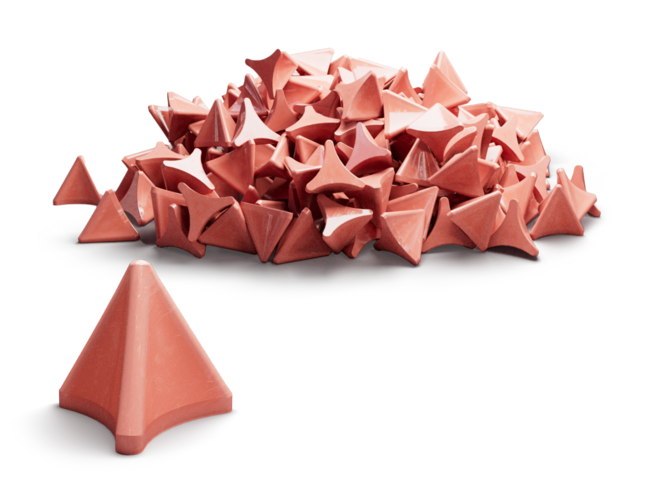 4 / 8
Tristar pyramid (PDZ)
The tristar pyramid is particularly suitable for the gentle processing of gear components. Due to the surface indentation compared to the basic pyramid shape, the tristar pyramid can remain dimensionally stable over a long period of use.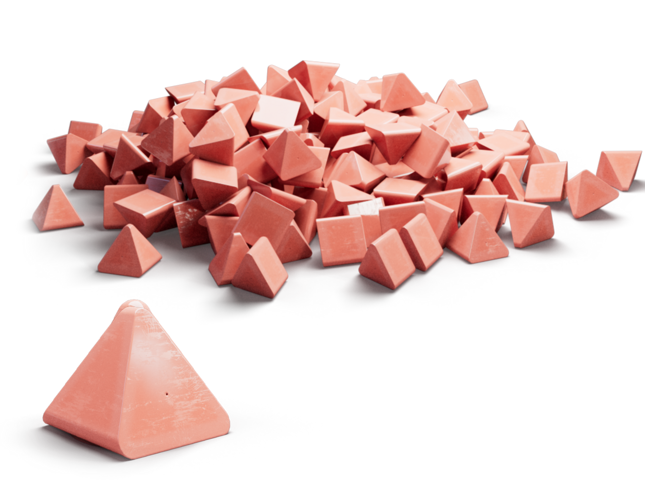 5 / 8
Pyramid - square base (PQ)
The square base pyramid media feature eight functional edges, each leading to a tip. This means that small workpieces are uniformly processed, even in areas that are difficult to access geometrically.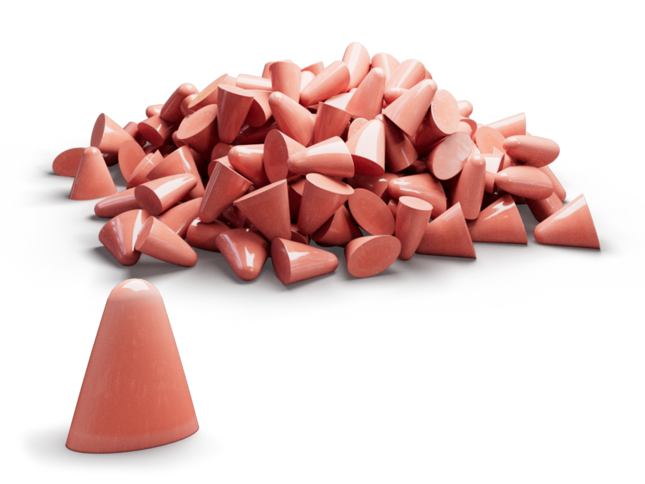 6 / 8
Paraboloid (PA)
The paraboloid is primarily a smoothing media. Workpieces are processed very gently due to the shape and good sliding properties, enabling uniform and gentle material removal.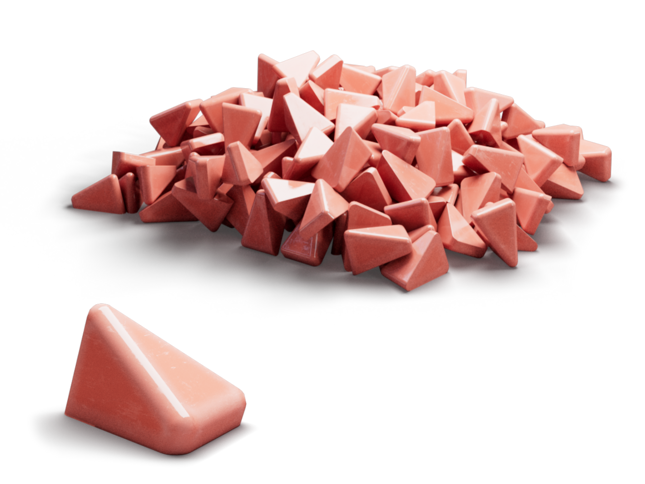 7 / 8
Double wedge (DK)
When new, this angular and pointed grinding media is primarily used for deburring parts with slots, threads and gear geometries. Even after a long period of use, this sharp-edged shape remains usable with no significant rounding. In practice, the double wedge is often used as a functional addition to other plastic media geometries, which improves the performance in the mass finishing machine.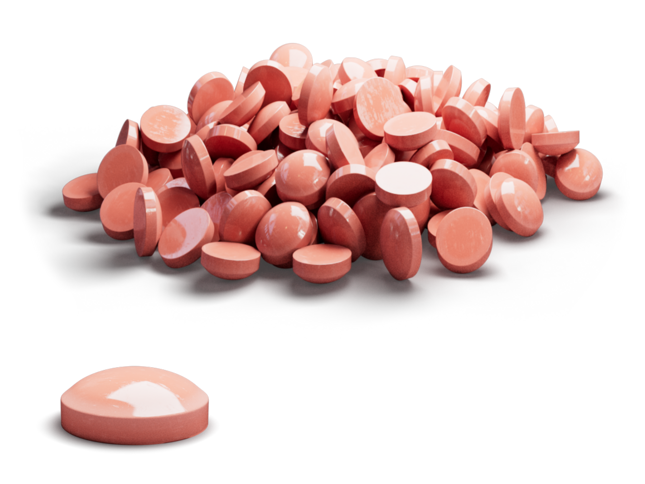 8 / 8
Lens (L)
Thanks to its shape, the lens has good sliding properties and processes workpieces in a very gentle way. The lens shape achieves a uniform and good surface finish, particularly with very soft materials.
Performance, productivity and profitability improved
N-media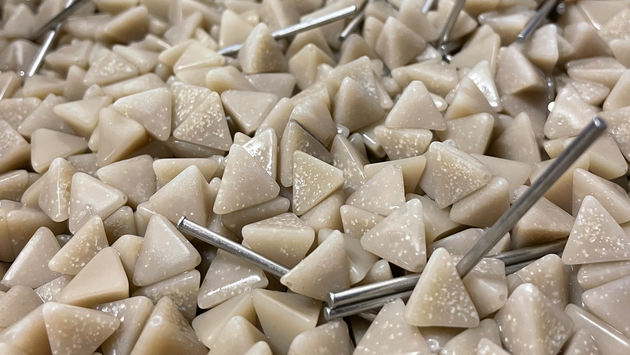 Almost all standard grinding media are also available in our non-foaming "N" version. The non-foaming media achieve higher process stability and reduce contamination on the workpieces and machine. As a result, the grinding effect is optimized, helping to achieve consistent finishing results. This option is not only better for the environment due to using fewer resources (fresh water, compound and process-water cleaner), but it also significantly reduces processing costs.