The REDL provides flexible, fast shot blasting for round, hexagonal, and square steel bars with a compact turbine blasting system capable of descaling up to 185 m/min.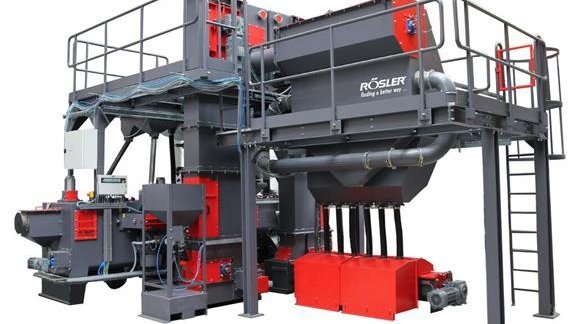 MACHINE INSIGHT: REDL Billet Blast Machine
The Rosler REDL Billet Blast Machine is a single-line shot blasting system built for delivering enormous performance within the steel processing industry.
This compact turbine blasting system achieves a descaling velocity of up to 600 ft/min (185 m/min) and a surface quality of up to Sa 3 on billets/semi-finished parts, round bars, steel beams and sections, bulb flat steel, specialized profiles, and drawn wires. Processing goals also include rust removal and descaling.
The REDL can process round, hexagonal, and square steel bars with diameters/cross-sectional diameters of 1 to 3.2 in (2.5 to 8.2 cm).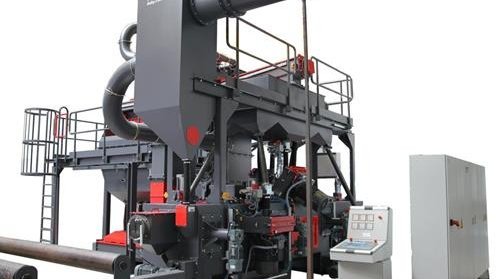 The REDL continuous blasting system features a number of design highlights for easy operation, longevity, and efficient processing.
Large inspection doors with a locking mechanism controlled by a limit switch do not require tools to be opened.
Inlet and outlet vestibules equipped with highly wear-resistant rubber curtains and a plug-in system allow for quick curtain and sealing system exchanges.
Blast chambers made from continuously welded, 0.4-inch (10 mm) thick manganese steel feature single or dual section design with three high-performance blast turbines in each.
Additional 0.5-inch (12 mm) thick manganese steel liners bolted to the blast chamber from the outside and 25 mm thick cast steel plates in the intermediate blast zone provide extra wear protection for maximum uptime.
Special V-rollers equipped with sealed bearings provide work piece transport.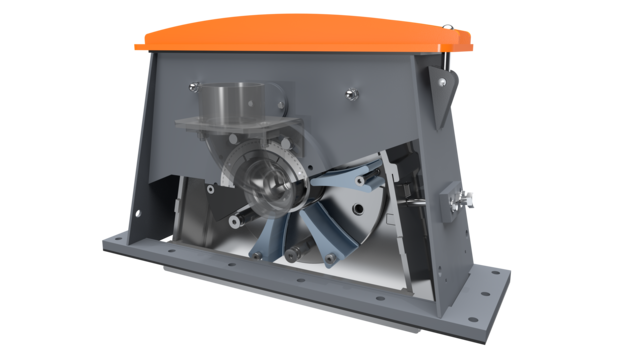 The blast media recycling system includes a collection funnel equipped with a longitudinal and cross screw conveyor to transfer blast media to the elevator and the screen drum.
A very wide separation area in the cascade air wash separator provides extremely effective blast media cleaning, optimized separation, and a large hopper for media storage.
Blast media flow quantity is controlled via a pneumatically activated shell valve with a linear motor and PLC monitors.
Gamma G blast turbines with a unique Y-shaped design deliver extremely high shot blasting efficiency, longer blade life, and quick changeouts.
Intuitive and easy operation and function control using the latest PLC technology from Siemens.
Optional equipment components include wear-resistant steel spring seals in the inlet and outlet chamber for work piece temperatures exceeding 176°F (80°C) and automatic blast media replenishment.
Rosler's shot blasting capabilities extend to a variety of industries. Contact us to learn how we can assist you with your unique challenges.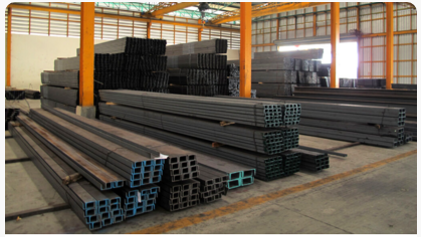 Part four in a 12-part series, our latest blog focuses on accurately measuring dust in preparation for coating and painting on structural steel components. The most recent post answers the question, How is the presence of dust on shot-blasted structural steel components evaluated?
With more than 80 years of experience, a single blog post is just scratching the surface of Rosler's structural steel expertise. Read more about one of the most common and important questions regarding surface preparation and why it is so important in construction and shipbuilding materials in the full blog post.
Future posts in the series will highlight surface preparation methods, evaluation standards, machinery, and material handling options.
Rosler can deliver a solution that meets your individual needs.
Contact us today to discuss your unique challenges!