Known as the RWB 48-6/4, Rosler developed a wet blast machine specific to the needs of a tibia manufacturer to allow for precise, continuous surface finishing operations.
MACHINE INSIGHT: RWB 48 Wet Blast Cabinet with Indexing Table
Orthopedic implants must adhere to very strict standards to ensure biocompatibility as well as durability and longevity. While these implants are rugged enough to bear great pressure inside a reconstructed joint, they must also be treated delicately to preserve their structural integrity, dimensional accuracy, and appearance in order to qualify for implantation.
Working jointly with a client in the orthopedic implant industry, Rosler recently developed a version of the RWB 48 Wet Blast Cabinet with Indexing Table for the finishing of tibia plates.

The Challenge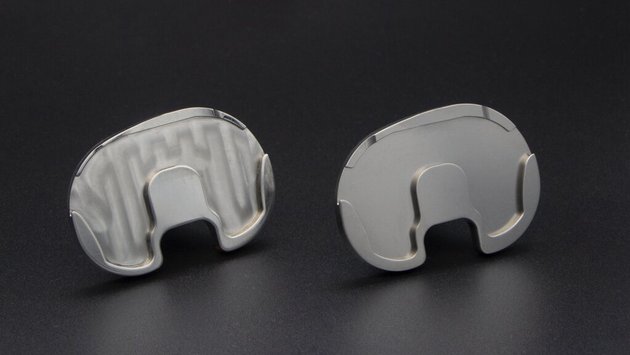 A large manufacturer of tibia plates worked with Rosler to develop and eventually purchase several wet blast systems to process titanium tibia plates after investment casting and machining.
Machining creates fine lines on the front of tibia plates. For cosmetic reasons, these lines must be leveled from Ra = 20 micron down to Ra = 8 micron. The surface must also receive a non-directional (isotropic), matte finish.
These work pieces weighed approximately 14 oz (397 g) with diameters of up to 4 in (102 mm) and heights of up to 8 in (203 mm).


The Solution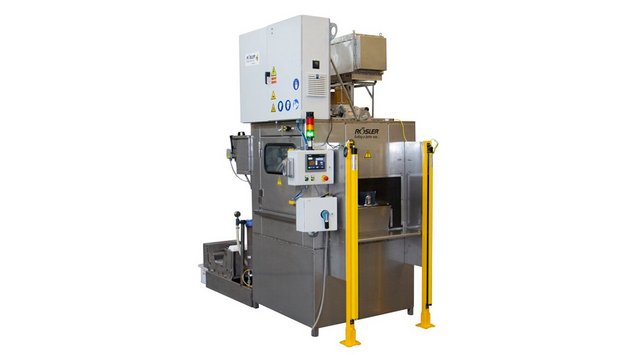 Known as the RWB 48-6/4, Rosler developed a specific wet blast machine featuring a stainless steel blast cabinet, six blast guns, and an indexing table with four stations. Two of the stations are utilized for simultaneous blasting while the third is being rinsed and the fourth is loaded/unloaded, allowing for continuous operation.
By fixturing the work pieces within the machine, there is no danger of part-on-part impingement. The three-phases of wet blasting also allow for thorough finishing on all surfaces.
With a total processing time of approximately 8.5 minutes, the RWB 48-6/4 is able to process 28 work pieces per hour using ceramic blasting media. Factoring in the continuous operation that equates to one finished medical implant every 130 seconds.
Technological Advantages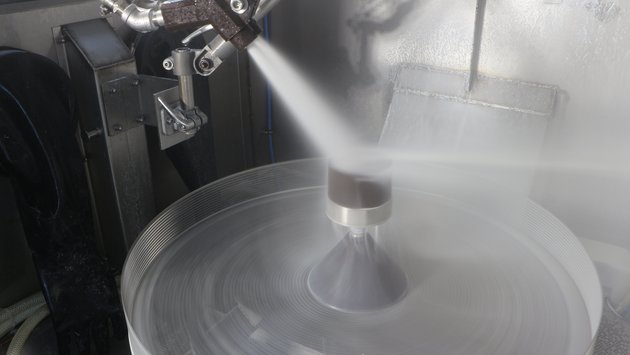 Beyond these tibia plates, Rosler's RWB 48 offers gentle and quick surface smoothing on a variety of tough metals.
Process efficiencies include:
Accurately controlled slurry concentration within +/-2% controlled by a load cell.

Automatic media replenishment initiated by a slurry concentration system.

Discharge of broken-down media and other contaminants from the slurry by a skimmer and dual hydro cyclone system.

Cleaning of process water by paper band and cartridge filters.

Motorized mist collection to minimize moisture buildup in the cabinet.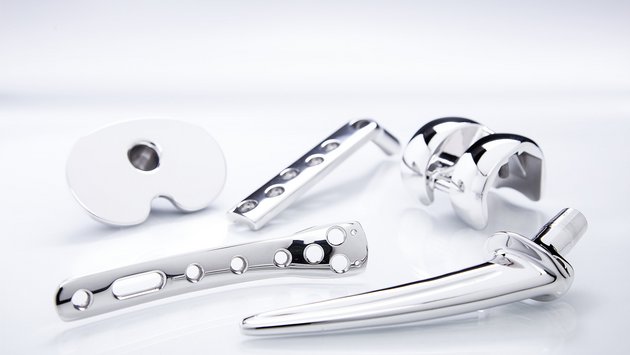 In addition to orthopedic implants, the RWB 48's wet blasting technology is ideal for applying a cosmetic, matte finish on:
Surgical implants.

Machined components to blend lines.

Additively manufactured components to remove residual and sintered on powder and to reduce the initial surface roughness.

Investment castings to remove residual shell material and oxidation.
Rosler's most recent blog post is Materials Must Provide Strength, Safety. Part three of a seven-part series, the post details why delivering precise, medical-grade finishing for orthopedic implants requires understanding the materials used.
Learn more about these materials and how to put Rosler's decades of experience with common and not-so-common materials to use for your orthopedic work pieces in the full blog post.
Previous posts in the series include:
You may also be interested in upcoming posts in the Orthopedic Implants Series, including:
Part 4 – Finishers Meet Standards, Face New Challenges.

Part 5 – Mass Finishing Offers Medical-Grade Polishing.

Part 6 – Shot Blasting Improves Longevity.

Part 7 – Processing Technology Evolves with Industry Advancements.