Preparing castings and forgings ready for the subsequent processing steps presents some of the toughest surface finishing challenges. Shot blasting machines can handle all of these tasks from removing residual sand, casting shells, flashing, die marks, or scale. Whether cast iron, steel, stainless steel, super alloys, titanium, aluminum, zinc, or magnesium, the comprehensive portfolio of Rosler blasting systems for the forge and foundry industries can develop the optimal process for any requirement.
Principle & Popularity
Shot blasting is an essential part of most forge and foundry operations and has been used since the late 1800s. This specialized surface finishing process throws small metal (or mineral) pellets, called blast media, onto the surface of a work piece at incredibly high speeds, ranging from 200-800 feet per second.
The impact on the work pieces is what blasts the contaminants from the parts and produces the desired surface finishing effect.
When properly applied prior to finishing, blasting achieves three key aspects of the finishing process, including:
De-sanding and descaling surfaces.
Creating a uniform texture on the part and blending the surface.
Enhancing paint adhesion.
Selection of the optimal shot blasting system for cast and forged work pieces depends on the production method and flow as well as the material, type, quantity, and size of the pieces in need of processing.
Types of Blasting Systems
When it comes to the two most important surface treatment fields, namely mass finishing and shot blasting, Rosler is the only equipment supplier in the world that can offer both.
Shot blast machines are typically categorized by the transport system. This allows the parts to move through the blast media stream. Depending on the parts, systems are referred to as batch and continuous-flow or tumbling and single piece systems.
Tumbling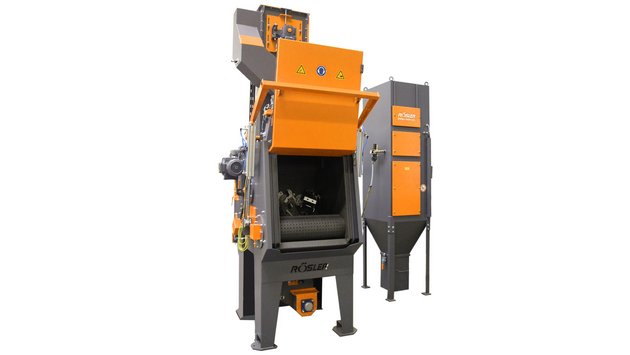 Tumbling systems can be used for smaller and less delicate parts that do not damage each other when they touch while being transported through the machine. These systems can be batch or continuous systems; some of our options include:
Tumble belt blast machines – Mass-produced components, which can be tumbled, are ideal for processing in tumble belt batch machines, no matter what materials they are made from. Anything from small, somewhat delicate die castings to medium-sized forged components can be finished to the highest standard. The batch system can be extended to a fully automatic system with the addition of peripheral loading and unloading equipment.
Multi-tumblers – The central feature of the RMT machine series is the geometry of the rotating barrel. The inside wall of the barrel features specially contoured ridges, while the bottom is shaped in the form of a three-sided pyramid. This unique design creates the innovative "multi-tumbling" action that ensures that the blast stream reaches all surface areas and each part during the processing cycle, thus producing even and consistent blast results. The loading and unloading can be automated allowing for reduced manpower during the operation. Batch-to-batch integrity can be guaranteed.
Continuous feed loop belt blast machines – Ideally suited for treating small, high-volume bulk components, the special design of the U-shaped loop belt creates a screw-like movement of the parts through the machine, ensuring homogenous treatment of all parts. A gentle tumbling action ensures the parts are evenly blasted without heavy part-on-part contact. These systems can easily be integrated into existing production flows.
Single Piece Flow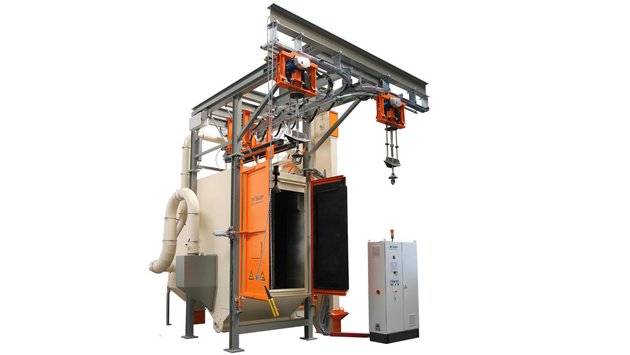 Blast machines for single piece flow are often used for large, heavy, or delicate parts that might be damaged in a tumbling operation. These systems can also operate in batch or continuous mode.
Spinner hanger blast machines – Overhead rail shot blasting units are recommended for the treatment of sensitive parts which cannot be tumbled in bulk and are for particularly complex, heavy, or large parts. The parts are mounted on a hook or tree and transported into the blasting chamber. The simultaneous rotating and oscillating movement of the hook ensures that the blasting media, accelerated by the multiple turbines, reaches every component and provides uniform results. System options include monorail, batch, and continuous feed systems.
Wire mesh blast machines – These machines are excellent for the all-round, complete, and continuous blasting treatment of flat as well as voluminous and complex components. A variable number of turbines mounted around the housing both vertically and horizontally treat very complex components with pockets or difficult-to-reach areas. A highly wear-resistant, wire mesh belt with tension adjustment transports the part.
Continuous feed tube, bar, or billet blast machines – Often used for billets, forged bars, or specialized profiles, these compact turbine blasting systems can achieve high throughput speeds and a near-white metal surface quality of up to Sa 3.
Specialty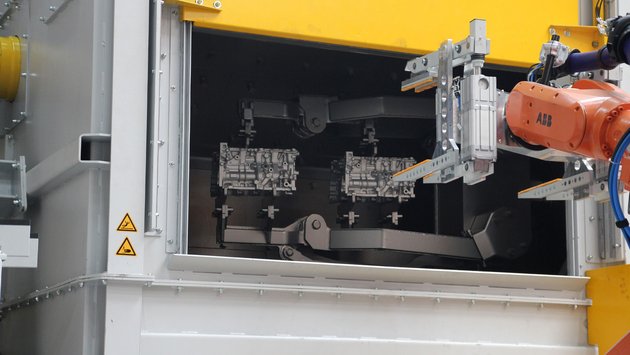 Especially high-volume parts or customer demands for full integration into existing production systems require special, custom shot blast solutions. Specialty machines include:
Engine block blast machines – Used for blast cleaning and descaling of engine blocks of all different sizes after the fettling operation weighing 50-10,000 lbs. (25-5,000 kg). The systems are designed to handle a range of engine block sizes, from small automotive engines to large industrial and marine engines in fully automatic operation. Specially designed manipulators and parts grippers hold the parts in place and guarantee an even finish of the entire engine block.
Roboblasters – The operating scope of this one-arm robot comprises deburring, surface finishing, and shot peening of impact-sensitive components of various dimensions. The system is tailored to suit the needs of the customer.
Crankshaft blast machines – A variety of crankshaft types can be optimally cleaned at very high production rates by selective blasting using a multi-stage indexing crankshaft blast machine. Advanced controls can be used to automatically adjust the work piece holder and the blasting pattern to changing part requirements within seconds. Systems like this are ideal for high-volume production.
Whatever forged or cast work piece you need to process, Rosler can deliver a solution that meets your individual needs.
Contact us today to discuss your unique challenges.
Upcoming posts in the Forge & Foundry series will include:
Part 02 – Efficient Recycling.
Part 03 – Shot Blasting & Sand Castings.
Part 04 – Selecting a Shot Blasting Machine for Sand Castings.
Part 05 – Cleaning Features & Dust Precautions for Sand Castings.
Part 06 – Selecting a Shot Blasting Machine for Die Castings.
Part 07 – Selecting a Shot Blasting Machine for Forgings, Non-Sand Castings, and Powdered Metal Components.
Part 08 – Frequently Used Shot Blasting Machines for Sand Castings.
Part 09 – Frequently Used Shot Blasting Machines for Forgings, Non-Sand Castings, and Powdered Metal Components.
Part 10 – Shot Blasting Machines Commonly Used for Die Castings.
Part 11 – Top Mass Finishing Machines for Cleaning Die Castings.
Part 12 – Media and Compound Selection, Effluent Handling Drive Success.