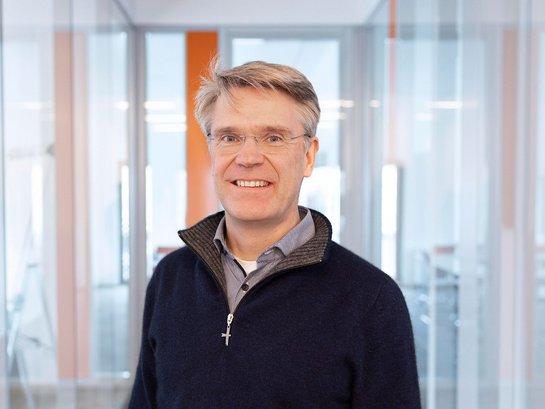 Setting new standards with the Rösler mindset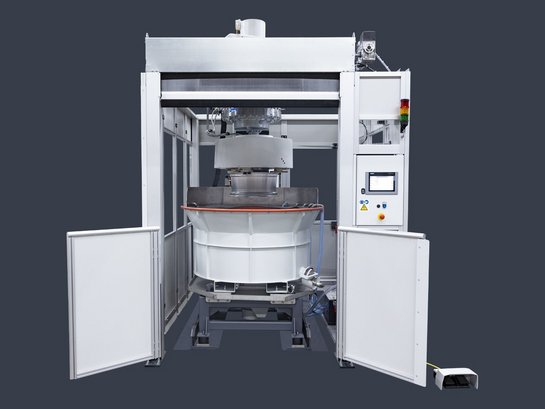 Mirror finish for high-end forged wheels in less than 40 minutes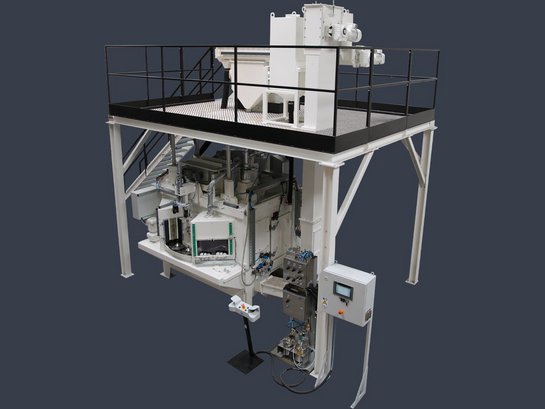 Lower costs and higher productivity for shot peening processes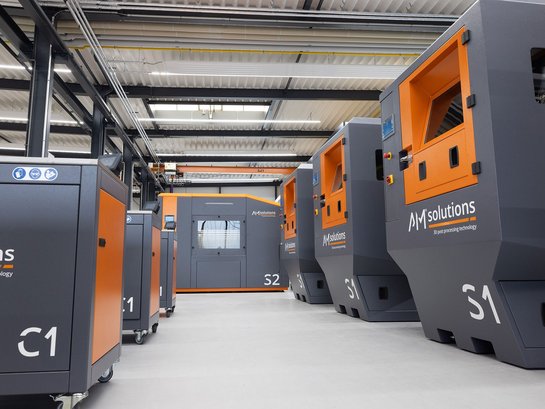 AM Solutions will produce standard AM post processing equipment in higher volumes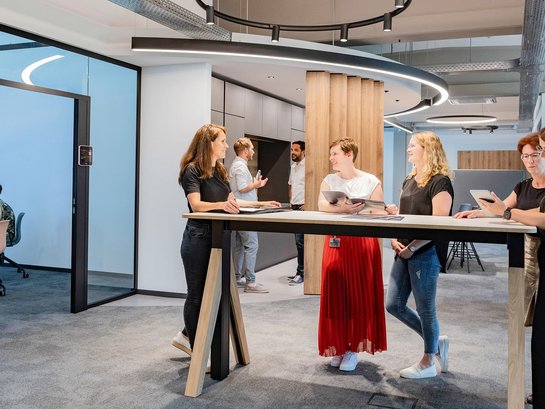 Start of the new work concept "Rösler Innowelt"
Surface finishing is our DNA
Mass Finishing | Shot Blasting | AM Solutions
Editorial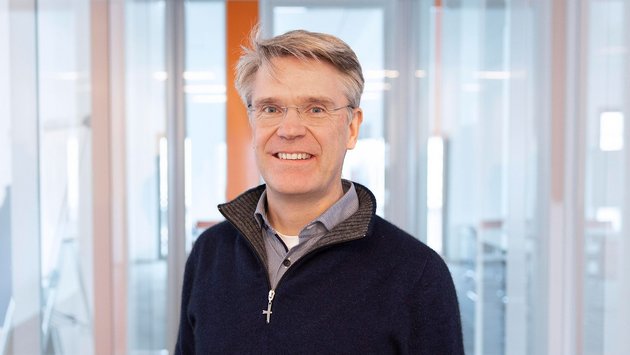 In past years we had to give up many things we had considered as being certain. Today we are confronted with the task of finding new ways for securing a stable future. The path to a new "normal" in business, technology and politics is uncertain and difficult, but to secure our continued success, we must meet this challenge head-on. In our efforts to adapt our business to the rapidly changing market environment we can rely on the special Rösler strengths that made our company so successful in the past. These strengths are an excellent basis for creating a successful future for the company.
Rösler has many strong characteristics that provide a solid foundation for coping with any new challenges: The company has proven technologies and products with excellent market potential. In addition, the company has numerous inherent strengths, and with the slogan "finding a better way" we have a guiding principle that defines our mindset. For me this means that even during difficult times we are looking ahead and are working for the future. We are in the fortunate situation that we can rely on proven products and processes but, at the same time, have the capability to develop innovative concepts.
A good example of this combination of proven and innovative methods is a wheel finishing project we completed for a large customer. The required cosmetic finishing results can be achieved with conventional methods, but they can also be augmented with new ideas for making the finishing process even better. In this particular project the result was a special, innovative plunge finishing system. This approach also works in the field of surface hardening of metal components exposed to high loads. The required results are generally achieved with shot peening, a proven technology that was established a long time ago. But now we have developed improvements that make this technology even better, more effective and more cost-efficient: With a special simulation software we can electronically simulate the shot peening process on any given work piece geometry. This allows us to precisely define the process parameters already during the design phase so that nothing is left to chance.
We are also working hard to further improve our corporate culture: For this purpose we are looking for new work methods and are implementing them with our "Rösler Innowelt" – an office concept along the New Work idea with open/shared workspace. This will strengthen our internal cooperation and communication. Combined with special digital tools and cooperation software it will allow us to react faster and more flexibly to customer requests. The same digital tools will also be utilized in our production. In a first step we have centralized the manufacturing operation for the equipment of our brand AM Solutions – 3D post processing technology. To meet the industrialization requirements in the AM industry, in this new facility we are building standard OEM and post processing equipment for additive manufacturing.
All this would not be possible without our Rösler mindset: Building on proven products and processes and improving them with innovative ideas. Every new day allows us to start something new and venture into new areas. This way we can step out of our old "normal" and with "finding a better way" create a new "normal" that guarantees stability in times of rapid change. With this approach we help our customers all over the world to overcome difficult times and successfully meet the new market challenges. And our employees will be able to work in a stable environment that allows them to look into the future with confidence.
I hope you will enjoy reading our new corporate newsletter. We have good reason to be optimistic!
Best regards,
Dr. Till Merkel
Mirror finish for high-end forged wheels in less than 40 minutes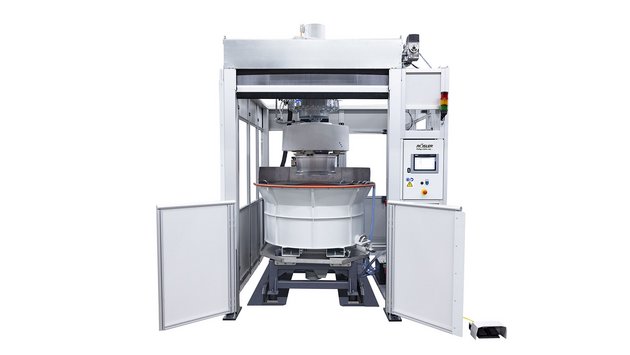 Forged aluminum wheels are not only characterized by their low weight, high stability and excellent load bearing characteristics but also by their exclusive optical appearance. Therefore, it is not surprising that manufacturers of luxury cars are primarily utilizing forged aluminum wheels in their vehicles. Optical highlights of the high-end automotive wheels are not only their attractive design but also their immaculate high gloss polish. To achieve such a perfect finish the wheels must undergo a surface grinding and smoothing operation before they can be polished. Treating the wheels with classical vibratory finishing methods or finishing them with costly manual labor requires several hours of processing time. A leading wheel manufacturer wanted to significantly reduce the time requirements for partially finishing already painted bicolor wheels and was looking for a suitable technical solution. This was found with the Rösler plunge finisher R 1/1 TSA-O/VS-So. The plunge finishing technology was developed by Rösler for the consistent and quick deburring, edge radiusing, surface grinding and polishing of complex, heavy and delicate components.
Two stage process with specially adapted media and compounds
The finishing task for the bicolor wheels was particularly challenging – the already applied paint must not be damaged, and at the same time the surface areas to be finished must receive a brilliant, immaculate high gloss polish. The process runs as follows: With a pneumatic clamping system one single unfinished wheel is attached to the operating spindle of the plunge finisher. The specially designed clamping system allows manual as well as robotic mounting of the wheels. By lowering the rotating spindle the wheel is immersed into the processing bowl filled with special grinding or polishing media. For the cut-down/fine grinding operation cone shaped plastic media is utilized that was specially developed for this particular finishing application. The process is supported by the continuous addition of water and a suitable finishing compound. During the process, the spindle performs a centrical, orbital or a reciprocal rotation. The different rotational movements can also be combined. The resulting wheel motion ensures that consistent and homogeneous surface finishes are achieved, even on the most complex design details of the wheels. Repeatability and consistency of the achieved results was a key requirement for making the plunge finishing process suitable for volume production. This is achieved by special technical features like the vibratory motor attached to the processing bowl and a built-in undersized media classification system. Both ensure a stable media mix, which, in turn, guarantees a consistently good finishing quality.
The cut-down operation is followed by a fine grinding cycle of around seven minutes. For high gloss polishing the wheels are then placed into a second plunge finisher filled with porcelain polishing media. The polishing operation requires a processing time of 25 to 30 minutes.
Resource saving use of water and compound
For cleaning of the contaminated process water a chemical water treatment system, specifically designed to minimize the water and compound consumption, was installed. It is primarily used for cleaning the process water from the cut-down/fine grinding operation. The only slightly contaminated process water from the polishing process is collected in a buffer tank and re-used for the cut-down/fine grinding stage. The compounds required for each process stage are automatically injected. Re-using the process water from the polishing stage for the cut-down/fine grinding phase also helps in reducing the overall compound consumption.
The customer was not only impressed by the technical features but also the cost-efficiency of the plunge finishing technology. Therefore, it is not surprising that he already ordered additional plunge finishers for the next expansion phase of the wheel processing line.
Lower costs and higher productivity for shot peening processes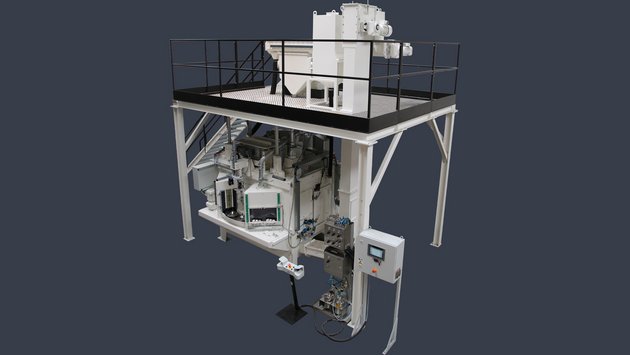 Shot peening, the "hammering" of work pieces with precisely defined blast media, is an indispensable operation in industries such as automotive and aerospace. By inducing a residual compressive stress into the work pieces, the shot peening operation substantially improves their long-term resistance against tensile and bending loads. The process is used for treating toothed, steering and transmission components, also for springs, drive- and crankshafts and all kinds of turbine blades. A significant advantage of the shot peening operation is that the component weight can be reduced without impacting its mechanical load capabilities. This is particularly beneficial in electric vehicles, because it increases their operating range and reduces their energy consumption. Due to changing work piece structures and shapes E-mobility frequently necessitates the alteration of manufacturing processes. Moreover, the customers are demanding significantly higher energy-, resource- and cost-efficiency. In other words, significant improvements in productivity and sustainability. Rösler can provide comprehensive support for such optimization projects.
Lower energy consumption by using turbines instead of compressed air blast systems
Compressed air blast systems have been the pre-dominant shot peening tools to consistently achieve the specified residual compressive stress values. A downside of the compressed air method is that it requires a lot of energy. Today innovative technical improvements of the turbine technology allow the precise and high-quality shot peening of a broad range of components with energy-efficient, highly productive turbines. For many peening applications costly compressed air blast systems are no longer required. The most important factors to be considered in peening operations are the work piece shape and size, the required peening results and the blast media. Based on these factors Rösler runs computer simulations of the blast pattern as well as the entire process. The simulations are followed by actual peening trials in our Customer Experience Center (CEC). Since the CEC is equipped with a broad range of turbine and compressed air blast systems, the shot peening trials can be conducted under actual production conditions. With an in-house X-ray diffractometer the peening trials can be quickly evaluated to determine which process parameters and blast media will generate the required results.
A joint optimization project between a leading European automobile manufacturer and Rösler resulted in energy savings of 30 % and a 50 % increase of the shot blast capacity. Based on the convincing project results, in the meantime this customer purchased four shot peening machines equipped with turbines.
Less equipment wear and higher productivity
Sometimes a review of the existing shot blasting parameters can help to significantly improve the entire peening process. Once they are established, the process parameters are frequently no longer questioned. Such carelessness can result in high equipment wear and unused potential for process improvement.
Perfectly calibrated process parameters, including the optimal media selection, guarantee high peening qualities, less equipment wear and low operational costs. If a review of the shot blasting parameters in an existing machine is not sufficient, a retrofit can be the right solution. Among other things this includes upgrading the machine with more productive components such as more powerful turbines or the development of work piece fixtures for new or modified work pieces. Optimization of the blast pattern must always be part of the considerations.
In all instances shot peening trials in the CEC along with the evaluation of the results by X-ray diffraction, special tests of the peening coverage and, if needed, surface roughness and light-microscopic measurements, will ensure that the required peening specifications are achieved. Very important for resource and cost efficiency of the process is the selection of the right blast media. A blast media analysis will always help to determine if the current media is right for the respective application.
Wet or dry shot peening?
Shot peening with compressed air blast guns can be run as a wet or dry process. Advantages of the dry peening method are a higher blast intensity and the targeted blasting of specific surface areas. In addition, the entire process and the blast media can be precisely controlled. The wet blasting technology prevents the media from getting embedded in the work pieces, and it produces a lower surface roughness. Since wet blasting is more gentle than dry blasting, it is the ideal method for treating delicate work pieces with thin walls without warping them. Each of the two peening methods has its advantages. Therefore, the chosen method must be a perfect fit for the respective application, especially with regard to cost-efficiency and quality of the peening results. Rösler offers a broad spectrum of different machine types. This allows a totally objective equipment selection and ensures that the customers get the best possible solution for their specific requirements.
All steps regarding process alteration and optimization, including the processing trials and process evaluation, can be modified so that the shot peening equipment can be quickly adapted to changing production conditions. This ensures absolutely consistent, high-quality peening results throughout the entire equipment life. And it guarantees that all demands for energy-, resource- and cost-efficiency are fully met.
AM Solutions will produce standard AM post processing equipment in higher volumes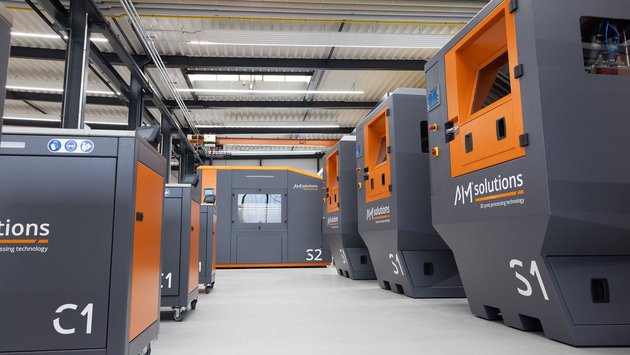 By creating the AM Solutions brand as specialist for post processing of 3D printed components in 2018 the Rösler Oberflächentechnik GmbH displayed remarkable strategic foresight. David Soldan, head of AM Solutions, explains: "What started out as an auxiliary niche product within our "normal" surface refinement activities, has grown into a rapidly growing, viable third business section on equal footing with the mass finishing and shot blasting divisions. One reason for this remarkable success is that AM Solutions can take advantage of 80 years of experience in the field of industrial surface treatment and the problem-solving capabilities of the mother company. Especially helpful for this dynamic and agile start-operation is its integration into the organizational procedures of a large, well-established company."
With the growing expansion of the product line and customer demands it became more difficult to efficiently produce the post processing equipment in the respective manufacturing facilities for mass finishing and shot blasting equipment. For this reason, the company decided to centralize the production of AM Solutions – 3D post processing technology.
Once the decision to offer the majority of post processing machines as proven standard equipment had been made, it became obvious that the production of
AM Solutions – 3D post processing technology must get its own "home". This allowed the creation of a modern development and production area with dedicated assembly sections. Within the framework of vertical integration the new production area allows the development and implementation of innovative and flexible post processing solutions -- from design concepts to their practical implementation -- all from one single supplier!
"On around 1,000 square meters we have physically and organizationally implemented the concept of an integrated supply chain: The production area is complemented by a modern, esthetically pleasing control center with glass walls that includes a co-working area and a conference room for discussions with customers and internal meetings", comments Stephan Böhnlein, head of equipment production and supply chain management at Rösler. "The control center is equipped with all technical accessories required for a flexible production environment. It contains workstations for engineering, software development and prototyping. This allows the engineers to discuss their designs with the assembly teams at the production site and to quickly resolve technical problems."
The six new assembly stations were designed with the principles of lean management in mind and are in full compliance with the 5S rules. This means that the right material quantities are always at the right location at the time they are needed. The employees can focus on their primary functions, produce little or no wastage and achieve significant savings in production time. Production control is organized through the Kanban system, a material supply concept designed for continuous workflow and optimized production costs.
The improvements of the entire production process are substantial: The assembly times were significantly reduced without jeopardizing the product quality. At the same time the internal transportation in the production process could be streamlined and the transportation costs reduced. An electronic, practically paperless work system provides a quick overview of the production status. It allows AM Solutions – 3D post processing technology to maintain an on-time delivery rate of more than 92 % and to supply its customers with high-quality products. In addition, the close proximity of equipment development and production allows a quick and flexible response to customer requests.
It is planned that within the not-too-distant future up to 300 post processing machines will be produced per year in the new production area. The entire workplace concept is highly flexible so that the number of produced machines can be practically doubled, if the market demands such an increase.
David Soldan, head of AM Solutions is pleased with the new production system: "By switching our production of standard machines to higher volumes we can supply our equipment a lot faster to our customers. But the physical proximity of product development and production still allows us to quickly comply with special customer requests. Accepting the requirements of a small start-up in a well-established company that is over 80 years old is proof of remarkable flexibility and openness by the Rösler top management". Soldan concludes: "Within the framework of our new production system we plan to offer five to six post processing machines as standard products".
Start of the new work concept "Rösler Innowelt"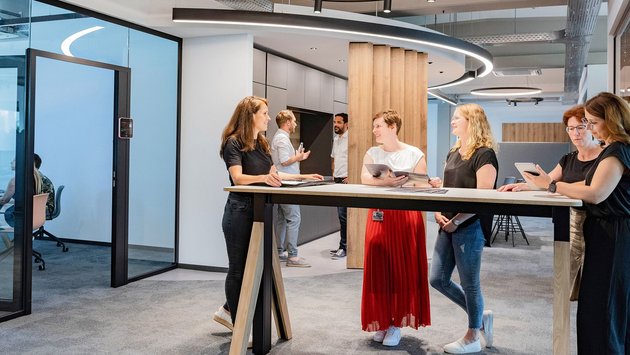 Quote sharing, anchor areas, work café, clean desk policy – a major change of the office system has quietly taken place within the past months at the main office of the Rösler group in Untermerzbach. All four office buildings at this location are being completely stripped, renovated and modified to modern office landscapes organized by the New Work principles.
The first colleagues have already moved into their newly organized office areas and are enthusiastic about the new working environment, called "Innowelt" at Rösler. The entire project will be completed by the middle of next year. At that time practically all offices will have been modernized regarding office equipment, visual appeal and ergonomics. This is truly a trendsetter for the entire region. One major goal was to integrate several departments from the Bad Staffelstein location into the Untermerzbach headquarters in a cost-efficient and sustainable manner and to prevent costly new buildings.
In the "Rösler Innowelt" permanent workplaces in the various departments are replaced by so-called "anchor" areas allowing the employees to switch from one workplace to another. Because of the prevailing home office rules many colleagues no longer work in the company every day anyhow. At the end of each workday the colleagues completely clear their desk and place their office tools such as headsets, laptop computer and personal items in dedicated lockers.
In a central location each floor contains a so-called work café consisting of a lounge and a kitchen area. There the employees can discuss common projects in a relaxed atmosphere. In numerous small compartments and conference rooms the colleagues can make confidential phone calls and meet for discussions. These building accents create a welcome segmentation of the office landscape and ensure that the open concept of the "Rösler Innowelt" does not create the impression of a monotonous open plan office. Noise reducing measures were also considered by management and integrated into the office landscape in an unobtrusive and innovative manner. For example with modern ceiling panels or the use of fabric as sound absorbing material.
Our President & CEO, Stephan Rösler, was keen on integrating his new office into the "Innowelt" in a central location. During his absence the office can be used as a meeting room. The employees were included in the planning and implementation phase, and all decisions were explained in detail. Through colleagues who acted voluntarily as interface with management, each employee could unbureaucratically present her/his ideas and proposals to the "Innowelt" concept. Once per month Stephan Rösler is available in the so-called change cafe to answer questions and discuss suggestions from the employees regarding "Innowelt".
Stephan Rösler explains: "We want to create a modern working environment for our employees that conveys a feelgood impression and, thus, generates the conditions for a productive working environment. At the same time this will make the company more attractive to qualified employees. The truly pioneering project "Innowelt" will be a substantial factor towards achieving these goals. Already now I want to thank all employees, subcontractors and suppliers for their support in implementing the project. And I look forward to a successful and harmonious working atmosphere in the newly organized office landscape".
The "Innowelt" project has not only positive effects internally: The Rösler Oberflächentechnik GmbH is now a reference customer of the management consulting firm ARCHONIC, who initiated the project and assisted in the implementation. Therefore, the new office concept will serve as a guideline for other companies for reorganizing their own offices. Moreover, the coverage of "Innowelt" in the regional press has already convinced another large company in the region to undertake such a reorganization.